Looking for a new hairstyle to try this year? Braided hairstyles are always a popular choice, and there are plenty of different variations to choose from. Whether you want something simple or more complex, a braid style will suit your needs.
Whether you're looking to switch up your everyday style or are attending a formal event, many braided hairstyles for long hair will suit your needs. We've got the perfect look for you, from messy bun styles to intricate fishtail braids. So, take a peek at our top ten picks and get inspired to try something new!
Fabulous braid styles for long hair
If you have long hair and are not sure what to do with it, don't worry. We have some great ideas for braided hairstyles that will make you look chic and stylish all year long!
Boxer Braids: This style is perfect for those with long, thick hair. It's easy to style and can be worn in various ways.
Dutch braids are perfect for curly hair because they add volume and definition to curls.
Fishtail Braids: Fishtail braids are elegant, chic, and perfect for special occasions.
Waterfall Braids: waterfall braids are a great way to show off your long hair while keeping it out of your face.
Braided Ponytail: A simple braided ponytail is a great way to keep your hair out of your face while still looking stylish.
The French braid is a classic hairstyle that always looks good. You can make it even better by adding in some colored ribbon or beads.
These are just a few of the many braided hairstyles for long hair that you can try this year. So get creative and have fun with your hair!
How do you braid your hair to make it look longer?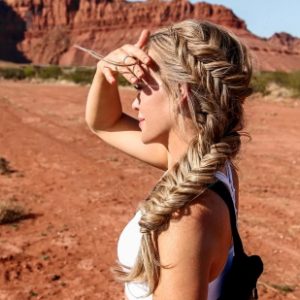 Your hair is your best asset. So why not make it look its best? Many people believe that braiding your hair can make it appear longer. While this may be true to some extent, other factors come into play when trying to achieve this look. We will explore how you can braid your hair to make it look longer. We will also provide tips on what to avoid if you want to achieve this look. Your hair's appearance can be greatly affected by how you take care of it and style it daily. So be sure to read our best tips on braid your hair to appear longer!
There are several ways to make your hair look longer. One way is to braid it down your back in a traditional three-strand braid. This will give the illusion of extra length, and you can even pull the braid over one shoulder for a more dramatic effect.
You can make your hair look longer by trying a fishtail braid. This type of braid is made by taking small sections of hair from each side of your head and crossing them over in the middle. The result is a long, flowing braid that looks very elegant.
Finally, you can try an inverted braid. This type of braid starts at the top of your head and wraps around to the back. It is more complicated than the other two types of braids, but it will give you some extra length and style.